Explore the benefits of Beltone Imagine
Beltone Imagine
Your tailored experience
Tailored Sound
Uses the uniqueness of your ear to deliver sounds exactly as nature intended.
Tailored Connectivity
World-class technology keeps you connected to your world.
Tailored Care
Comes with personalized support and care that's right beside you every step of the way.
Tailored Design
Made with an all-new design, colors, and features to fit your lifestyle.
Benefit from revolutionary technology
We challenged ourselves to take our hearing innovations to the next level and created something truly groundbreaking. Our new revolutionary hearing technology, Microphone & Receiver-in-Ear hearing solution (M&RIE), filters and delivers the most natural sound yet. M&RIE is a hearing solution unlike any other. It works with your unique ear shape to collect sound just as nature intended.
Confidence in situations
Our new revolutionary hearing technology, Microphone & Receiver-in-Ear hearing solution (M&RIE), filters and delivers the most natural sound yet, effortlessly processing multiple sounds at once. You get premium sound quality, a full understanding of your surroundings, and even better speech recognition.
Experience how Beltone Imagine enables better speech understanding
Learn more about how Beltone Imagine performs in a complex setting compared to past solutions. Watch this video and get a feel of how Beltone Imagine enables better speech understanding in a windy situation.
CrossLink Directionality 3
Makes your day easy and enjoyable
You're always in control of your hearing with Beltone Imagine. Now you'll enjoy having a complete understanding of your surroundings with the ability to focus on the sounds that matter the most. This is all possible with our new and improved technology, CrossLink Directionality 3.
Ultra Focus Zero-in on the conversation
When you're in demanding situations and you want to fully zero-in on just the sounds in front of you, simply turn on the brand-new Ultra Focus program. Ultra Focus ensures you'll always have the best possible speech clarity, no matter the environment, without feeling isolated from what's happening around you.
Direct audio streaming from iOS and Android devices
You'll feel empowered and free again with Beltone Imagine compatibility and its ability to directly stream all your favorite services, streaming phone calls, GPS, internet radio, music, podcasts, and audiobooks with our upgraded mix-in audio streaming that eliminates connection delays.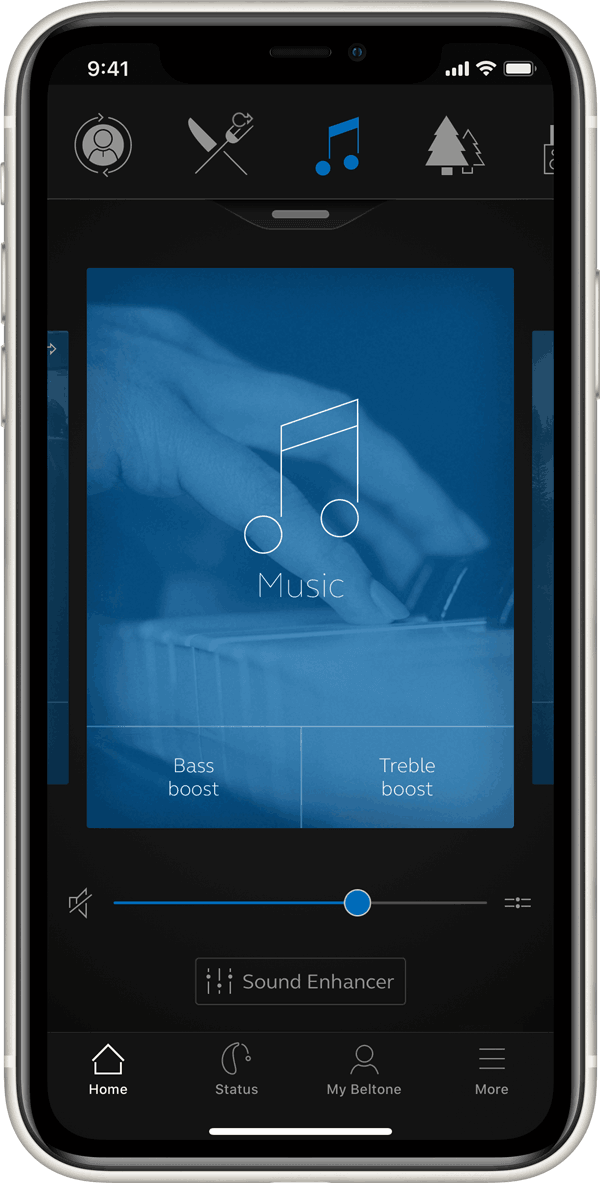 Tailored Connectivity
Stay engaged with all your favorites
The Beltone HearMax app is an intuitive app for those with Beltone Imagine. You can easily control volume and adjust programs, noise reduction, speech focus, and more directly from your iPhone, iPad, iPod touch, Apple Watch, or Android™ devices. Simply download the app for free from the App Store or Google Play and start managing any sound setting at your own convenience.
Countless ways to connect
The multiple connectivity features of Beltone Imagine keep you connected to all your favorite entertainment and communication technologies. Choose from a range of wireless accessories that offer extra ways to enjoy a personalized listening experience.
Beltone TV Link 2
Streams sound directly from any TV to hearing aids for seamless entertainment and a crystal-clear listening experience.
Beltone Phone Link 2
Enjoy hands-free phone calls and stream conversations directly to your hearing aids via Bluetooth wireless services for easy, seamless phone calls.
Beltone Remote Control and Beltone Remote Control 2
With one of these controls in your hand, you can adjust volume and change hearing aid programs for TV, radio, computer, etc. quickly and easily.
Beltone myPAL Pro and Beltone myPAL Micro
Attach the devices to friends, colleagues, family, etc. for the clearest sound and speech understanding, no matter the location.
Service Centers:
David City, NE
Syracuse, NE